Microdosing THC for Dementia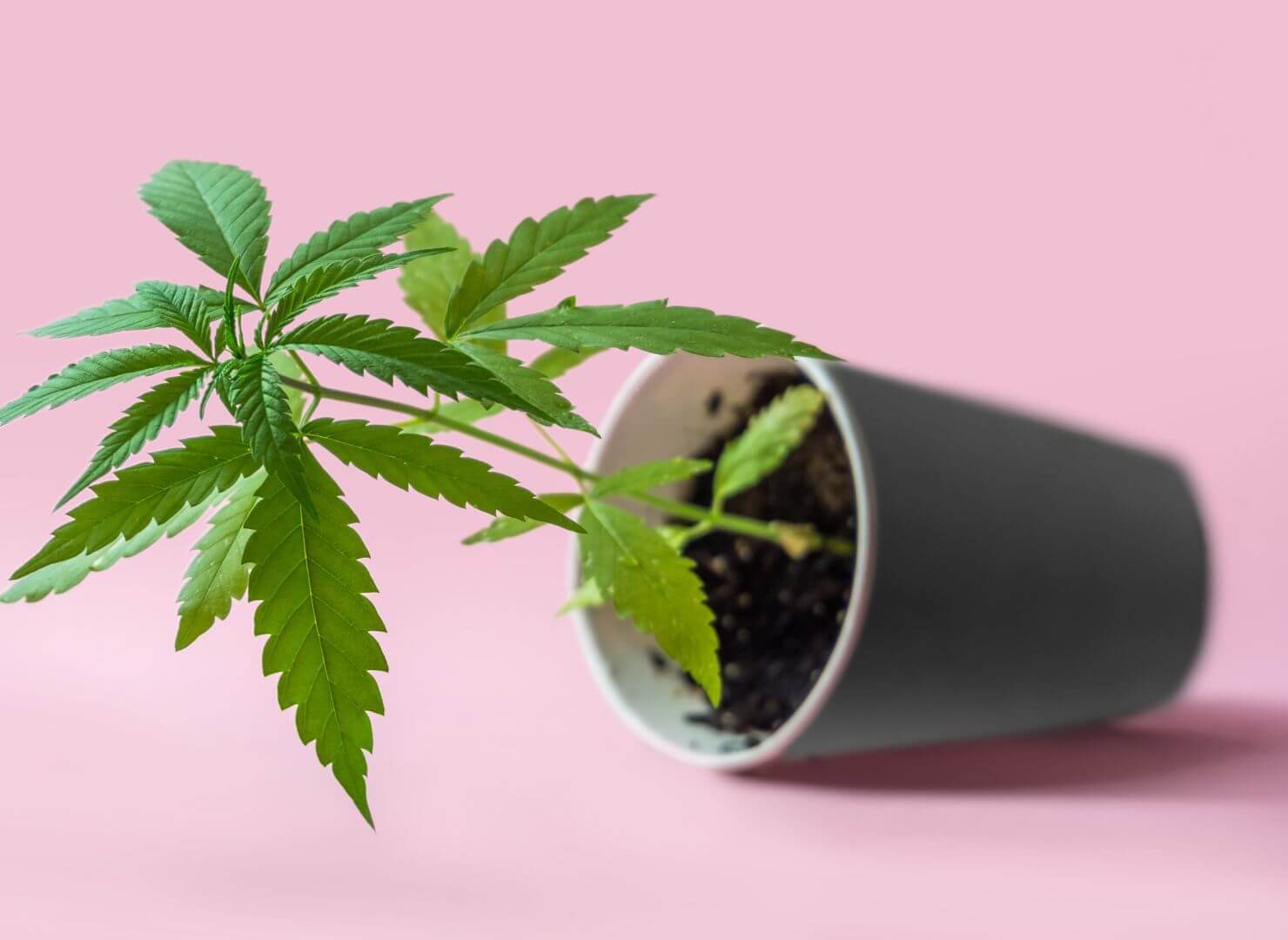 While there is no cure for dementia, recent studies have shown the beneficial effects of medical cannabis in managing symptoms. Can microdosing THC help dementia?
Quick links:
An estimated 6.5 million Americans older than 65 are living with Alzheimer's, a 2022 study found. Dementia researchers with the Alzheimer Society Research Program have conducted clinical trials to see how medical cannabis helps manage behavioral symptoms of dementia—like agitation and aggression.
Cannabinoid microdosing is also associated with cognitive and behavioral improvement in patients with mnemonic and non-mnemonic Alzheimer's disease.
In our extensive guide on microdosing THC, you can read about how microdosing THC helps:
Alleviate chronic pain with cancer patients

Alleviate symptoms of migraines

Reduce inflammation
Relieve muscle tension and seizures

Reduce stress and anxiety

Improve sleep

Treat depression and other mood disorders
Read more about the benefits of microdosing THC.
Thinking of trying to microdose THC for Alzheimer's? Our THC gummies are the perfect way to unwind! They contain 0.3% hemp-derived THC by dry weight, making these gummies legal, safe, and all-around awesome.
How Does Cannabis Help with Dementia?
Dementia covers a range of neurological disorders and changes in brain functioning. Dementia includes the following conditions:
Alzheimer's disease

Mnemonic and non-mnemonic Alzheimer's disease

Vascular dementia

Frontotemporal dementia
Dementia is caused by damage to or degeneration of brain cells, leading to a decline in cognitive functions. Recent studies offer encouraging results on microdosing medical cannabis to improve cognitive functions and treat symptoms of dementia.
Onset dementia is characterized by:
Memory loss and confusion

Difficulty speaking, understanding, and expressing thoughts

Acting impulsively

Experiencing delusions or paranoia

Balance and movement issues

Irritability and violent behavior
Patients suffering from dementia have reported that cannabis helps with pain relief, increased appetite, and an overall sense of calm. Elderly patients with Alzheimer's and other types of dementia have benefited from THC-rich cannabis extracts, citing reduction of medication consumption, weight gain, and sleep improvement.
Dementia researchers often focus on the most common change in behavior in patients with Alzheimer's and dementia: a decrease in agitation and aggression. Existing anti-aggression medications come with harmful side effects, but cannabinoids interact with the body in a gentler way.
According to research published in the Nature Medicine journal, low doses of THC-rich cannabis extract can restore memory and learning levels in mice. Microdosing delta-9-tetrahydrocannabinol (Delta 9 THC) reversed age-related decline in mice aged 12 and 18.
Microdosing cannabis may also be helpful in treating vascular dementia, a neurodegenerative disorder that often accompanies Alzheimer's. Vascular dementia involves inadequate flow to brain cells, resulting in atrophy and decay. By interacting with CB2 cannabinoid receptors in the endocannabinoid system, microdoses of cannabis extracts stimulate blood flow to the brain.
How Does THC Affect the Brain?
When tetrahydrocannabinol (THC) enters our system, it binds to CB1 and CB2 receptors, two main cannabinoid receptors in the body's endocannabinoid system. A complex network of signals and receptors, the endocannabinoid system (ECS) regulates a variety of functions and processes in our body like mood, sleep, appetite—and memory.
Cannabinoid receptors are found in most of our tissues and organs, but are particularly abundant in the brain. When CB1 and CB2 receptors interact with delta-9-tetrahydrocannabinol (Delta 9 THC), a number of changes occur.
Mood

Consciousness

Appetite

Motor control

Memory processing
Cannabis extracts in microdoses ameliorates symptoms of dementia without negative side effects. Also, low doses of THC don't cause the signature "high" that most people associate with cannabis consumption.
Growing evidence suggests that during the Alzheimer's disease progression, a dysfunction in the endocannabinoid system occurs. THC regulates synaptic transmissions and promotes neuroprotection in the endocannabinoid system.
Similarly, cannabidiol (CBD) inhibits endocannabinoid degradation with its anticonvulsant and anxiolytic effects. It reduces epileptic seizures, soothes neuropathic pains, and prevents anxiety symptoms.
However, it is the combination of both phytocannabinoids, THC and CBD, that produces optimal benefit for dementia sufferers. A recent review of the effects of cannabinoid extracts in microdoses concluded that CBD could potentially suppress the main causal factors of Alzheimer's disease by activating protective anti-neuroinflammatory receptors. The review also found that combinations of CBD and THC are more effective than THC alone.
Many of our nama CBD edibles, such as THC gummies with CBD, combine multiple cannabinoids for the so-called entourage effect.
Our Delta 9 edibles happen to have the perfect combo of THC, CBD, and other cannabinoids. They contain 0.3% Delta 9 THC on a dry weight basis and are derived from hemp. In other words, they are federally legal because they comply with the conditions of the 2018 Farm Bill.
What Research is Available on Cannabis and Alzheimer's Disease?
A medical case study published in the Journal of Medical Case Reports reviews the case of a 75-year-old patient who successfully managed his Alzheimer's disease symptoms with microdosing cannabis.
Under the supervision of an international team of investigators, the patient began to take low doses of cannabis extract. The patient's scores on the Mini-Mental State Examination (MMSE) and Alzheimer's Disease Assessment Scale-Cognitive Subscale (ADAS-Cog) assessments improved in the following months.
The patient improved significantly after continued use of low doses of THC. Extracts used in the trial contained a ratio of CBD and THC of 8-to-1, with the daily dosage never exceeding 1 mg of THC.
The patient also reported improvements in mood and behavioral issues, most notably a reduction in mood swings and aggressiveness. Forty-two months after the initial treatment, the patient was still reporting no disease progression.
Further clinical trials are needed to confirm these observations, due to a general lack of research on the effects of cannabis.
Can Microdosing THC Cause Dementia?
Studies on the effects of cannabinoids on the human brain show a surprising conundrum. THC appears to have a negative effect at high doses and a positive effect at low doses.
Excessive doses of THC can potentially impair cognitive functions, but the impairment depends on the age a person began using, as well as the duration period. Some studies suggest that excessive marijuana use in adolescence is associated with decreased brain functions—memory, learning, and impulse control.
Microdosing THC comes with no adverse effects, and instead seems to improve brain health. Microdosing beginners usually start with 1-2 mg of THC and gradually increase the dosage over time. Always start small in order to be able to function normally in everyday activities without the buzz or any other unwanted side effects.
Can CBD Oil Help Dementia Patients?
Alzheimer's disease causes a protein called amyloid to build up in the brain. Some studies have shown that medical cannabis appears to remove amyloid from nerve cells grown in the lab.
Both THC and CBD oils were administered to mice with symptoms of Alzheimer's in one such study. The subjects showed less amyloid accumulation in the brain, indicating that CBD oil and lower doses of THC are dementia-friendly.
Research suggests that higher concentrations of CBD oil could successfully manage some symptoms of dementia—like agitation and anxiety.
See our guide to the differences between THC and CBD for more info on the two cannabinoids.
Can CBN Oil Treat Dementia?
Although more research is needed, current studies suggest that CBN has beneficial effects for dementia and Alzheimer's disease.
Cannabinol (CBN) is one of more than a hundred cannabinoids found in the cannabis plant. Just like THC and CBD, CBN interacts with the endocannabinoid system—but unlike THC, CBN does not have any psychoactive effects.
When extracted from the cannabis plant, CBN oil is pure in form. When combined with other cannabinoid extracts, CBN's effects are enhanced. In the entourage effect, CBN oil is said to have sedative properties.
Our CBN gummies are infused with high-quality CBN and hemp-derived CBD to provide all the benefits of a good night's sleep.
Research at Salk University for Biological Studies reveals an important role CBN plays in protecting brain cells from neurodegenerative processes. During the aging process, mitochondria become dysfunctional or inefficient; a predicament especially pronounced in neurodegenerative diseases. CBN seems to bolster mitochondria and preserve mitochondrial function.
Other potential CBN benefits include:
Neuroprotective agent in delaying the onset of ALS

Appetite stimulant

Anti-inflammatory

Pain reliever
What are the Effects of CBD Oils on Sundowning?
Patients suffering from Alzheimer's disease and sundowning symptoms report restlessness, irritability, night agitation, and disturbed sleep. CBD seems to be highly effective in treating various types of dementia that lead to sundowning symptoms and insomnia.
CBD also helps dementia patients—particularly "sundowners"—by enhancing the health of the brain cells located in the areas that are concerned with formation and reconsolidation of memories (PC12 neuronal cells).
Because of its anti-inflammatory properties, CBD also promotes the endocannabinoid system. This causes ECS to further enhance the body's natural defenses against any degenerative changes due to brain aging. In addition, CBD oils appear to improve cognitive abilities in people experiencing the sundowning syndrome and mitigate symptoms of agitation, confusion, and stress caused by confusion during sundowning episodes.
Delta 8 and Alzheimer's disease
New research has emerged on the impact of Delta 8 THC on Alzheimer's disease. Delta 8 THC seems to increase the levels of acetylcholine in the brain. Acetylcholine is a neurotransmitter that plays an important role in sustaining memory and learning, and in the overall mental health.
Other potential benefits of Delta 8 THC include:
Improving behavioral problems associated with Alzheimer's and other types of dementia, most notably agitation and aggression

Suppressing nausea with cancer patients

Stimulating appetite
Delta-8-tetrahydrocannabinol (Delta 8 THC) is a THC compound found in the cannabis plant. The main difference between Delta 8 and Delta 9 is that Delta 8 produces milder euphoric effects than Delta 9.
Interestingly, research has been conducted about Delta 8's specific role in treating nausea with children aged 3-13 suffering from cancer. Patients that were given small doses Delta 8 THC were able to fight off feelings of nausea and vomiting without experiencing any psychoactive effects.
Try our nama CBD Delta 8 THC Gummies. They contain 12.5 mg of Delta 8 THC and taste delicious.
Is Delta 8 legal?
Delta 8 THC is federally legal if derived from hemp and if the product contains no more than 0.3% of Delta 8 per dry weight. Despite federal legality, some states choose to ban Delta 8 THC outright.
As of 2022, fourteen US states have made Delta 8 THC illegal:
Alaska

Arkansas

Arizona

Colorado

Delaware

Iowa

Idaho

Kentucky

Montana

Mississippi

New York

Rhode Island

Vermont

Utah
What are the Best Microdosing Edibles for Dementia?
You're going to LOVE our selection of edibles, but your (or your loved one's) dementia won't. All nama CBD gummies are 100% vegan, 100% premium hemp-derived, and 100% legal across the US. They are pure American-grown hemp extracts, contain only natural ingredients and no artificial flavorings and colors!
Here are our best microdosing edibles for mitigating symptoms of dementia:
Free Nationwide Shipping ... Always :)
Microdosing THC for Dementia FAQ

 
Which cannabinoids work together to combat Alzheimer's disease?
A Review on Studies of Marijuana for Alzheimer's Disease – Focusing on CBD, THC implies that the cannabidiol extracts might be useful to treat and prevent Alzheimer's disease. When taken together, CBD and THC appear to be more useful than using CBD or THC alone.
What is the safest way to take CBD and THC for dementia?
Despite a variety of available cannabis consumption methods, the best way to microdose THC is via edibles. nama CBD edibles give you exact dosages and are of the highest quality. For microdosing cannabinoids, you can't find better products anywhere.
Edibles are the optimal way to microdose THC because they deliver a predictable dosage of cannabinoids. With sublinguals and vaping, you can never be sure of the exact amount of THC or CBD you've taken. Gummies are easy to microdose since each one contains the exact same amount of THC; the THC doses range from 2 mg to 10 mg per gummy.
Our THC drinks are another safe method to consume THC and CBD. As with our edibles, they provide precise dosing.. Whether you're looking for a tasty way to microdose THC, or a way to kick back and relax, THC beverages will infuse your favorite drinks with all the perks of Delta 9 THC and CBD. Buzz Drops THC Mix provides an even better cloud nine feeling than your regular margarita!
Is CBD legal?
The 2018 Farm Bill differentiated hemp from the legal definition of marijuana in the Controlled Substances Act. This made CBD products derived from hemp with less than 0.3% THC federally legal.
However, CBD products containing more than 0.3% THC are still federally illegal—but legal under some state laws. Before deciding on a purchase, be sure to check your state laws.
Does CBD oil help dementia patients sleep?
CBD not only improves cognitive functions, slows down brain aging, and mitigates agitation and aggression but also has beneficial effects on sleep disturbance in people with mild to moderate dementia.
Our sleep gummies with CBD and melatonin are the ideal snack to soothe your mind at bedtime. Some of these vegan gummies contain 0.3% of hemp-derived Delta 9 THC, while others contain broad spectrum CBD and melatonin.
Does CBD make you high?
Unlike THC, CBD does not produce any psychoactive effects. CBD has a relaxing and calming impact, especially in combination with low doses of THC.
Broad spectrum CBD gummies contain no THC, whereas full spectrum gummies have low amounts of THC.
Does CBD cause memory loss?
CBD does not cause memory loss. On the contrary, CBD is believed to help improve cognitive and memory function and prevent memory loss.
Cannabidiol is considered to be neuroprotective: it helps protect neurons responsible for maintaining cognitive function from damage or degeneration. This seems to play a vital part in supporting patients with memory and cognitive impairment.
Can CBD reverse memory loss?
There is no substantial evidence that CBD can reverse memory loss. However, some studies have found that regular cannabis use seems to slow down loss of memory function associated with dementia and Alzheimer's.
A 2016 study found that CBD may support cognitive function and reduce memory impairment by helping increase the connection between brain cells.
Should people with dementia take melatonin?
Opinions on melatonin as a treatment for dementia are divided.
Some argue that the use of melatonin and other sleep-promoting medications for people living with dementia should be limited due to increased risks of falls and other adverse effects. The opposing view holds that melatonin is essential to regulate bodily processes and minimize Alzheimer's symptoms.
Alzheimer's disease slows down melatonin production, leading to sleep disturbance, disorganization, and memory impairment. Also, decreased amounts of melatonin could be responsible for the sundown syndrome, as symptoms appear to be more severe at night.
Apart from regulating sleeping processes with dementia patients, melatonin has antioxidant and neuroprotective properties. It helps combat oxidative stress to DNA, proteins, and lipids, and encourages cognitive health.
To improve symptoms of dementia, optimal doses of 3 mg, 6 mg, and 9 mg of melatonin are typically given before bed.
Our melatonin sleep gummies are infused with melatonin and CBD. They contain sleep promoting blends of THC, CBD, CBN, and melatonin in carefully crafted ratios for the perfect way out of your sleepless nights.
How much CBD is needed for dementia?
With microdosing, the general recommendation is to start low and go slow, carefully monitoring any changes, improvements, or side effects.
To treat neurodegenerative disorders, such as dementia, it is recommended to start really low, between 1-2 mg per day. Increase by 2-3 mg weekly until you notice improvements in symptoms. Also, base the dosage on body weight.
nama CBD FDA & Legal Disclaimer
Our products are not intended to diagnose, treat, cure, or prevent any disease. They are not a replacement for prescription medications and have not been evaluated by the Food and Drug Administration (FDA).
The information provided on this website does not, and is not intended to, constitute legal advice or any statements of the status of any laws. Any information, content, and materials available on this site are for general informational purposes only, and are not intended to be relied upon for any purpose.
Readers of this website should contact their attorney to obtain advice with respect to any particular legal matter including decisions on what products are, or are not, legal to sell, possess, or consume. No reader, user, or browser of this site should act or refrain from acting on the basis of information on this site without first seeking legal advice from their own counsel in the relevant jurisdiction.
Only your individual attorney can provide assurances that the information contained herein – and your interpretation of it – is applicable or accurate for your particular situation. Use of, and access to, this website or any of the links or resources contained within the site do not create an attorney-client relationship between the reader, user, or browser, and website authors, contributors, contributing law firms, or committee members and their respective employers.
More From the nama Family
Small batch edibles crafted for different times of the day and experiences.