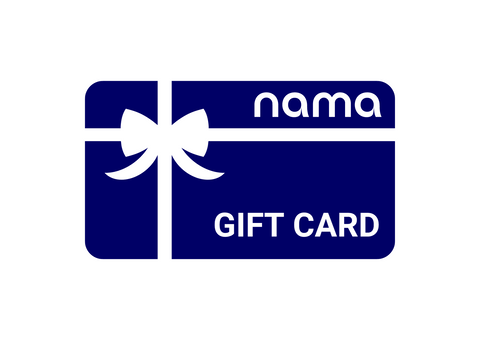 nama Digital Gift Card
Give the gift of nama with our digital gift card! No waiting for shipping with this gift - this cruises straight to your inbox upon purchase.
We wanted to offer the perfect gift for any nama lover so we have several price options so you can choose what's comfy for your pocket.
Show that special someone how much they mean to you with a nama digital gift card today!
*Due to the fact that this product is delivered instantly upon purchase, we cannot allow refunds for gift cards.*
FAQ
Shipping: free via USPS
Serving size: beginner take one, experienced take two
I'm new: start here Ultimate Sampler,
When to take: anytime you want to take the edge off
Returns: yes store credit, minus our shipping cost
More questions: text us - 201-574-7944
Got questions?
We've got answers :)
What is Hemp-Derived THC?
Delta-9 THC is a natural compound commonly known through history as the euphoric compound in marijuana. Hemp-derived Delta-9 THC is the same exact compound, derived from federally legal hemp flower in compliance with the 2018 Farm Bill.
How is CBD Different From Hemp Derived THC?
CBD is another cannabinoid derived from the hemp (cannabis) plant. CBD plays a different game than THC – by bringing a gentler vibe to the party. When you combine the two, they're like the dynamic duo of chill, creating a well-rounded experience that hits all the right notes.
We highly suggest starting with one of our samplers. Our Ultimate Sampler allows you to try a wide range of fruit flavored vegan gummies infused with the flavors of fresh fruits and carefully designed for things like Energy, Relaxing, Bliss, Sleep and our favorites ... Euphoria. Each order comes with a Dosing Guide as well as a Product Guide. And our Ultimate Sampler is currently on sale :)
p.s. we also have a one minute Quiz
Hear from the best
We promise to do anything to ensure you are fully satisfied with your purchase
:)